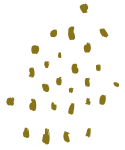 At Advanced Care and Education Daycare, we recognize that each child is a unique individual who brings their own abilities and characteristics to the program and deserves encouragement and opportunity to explore new ideas. We wanted to create a space that is warm and welcoming, where children and families can call "home". We believe that every child deserves to learn, explore and ask questions in a loving and caring environment, and feel a sense on belonging within their own community by building personal relationships with peers and adults around them.
Every child is an active and engaged learner who explores the world with body, mind and senses and expresses themselves in many ways. Our program supports children's ability to self-regulate, deal with stress and remain calm, alert and ready to learn. When children are calmly focused and alert, they are best able to modulate their emotions, pay attention and ignore distractions. We are continually learning about how to create learning environments and programming that helps support children's self-regulation—to help children remain or return to a state of calm. By encouraging positive self-regulation methods at an early age, it greatly benefits the child further on in their development as they can deal with their emotions and stressors in a calm and healthy way.
Our programs focus on active play-based learning in order to foster the children's exploration, play and inquiry. When children are manipulating objects, acting out roles, or experimenting with different materials, they are engaged in learning through play. Play allows them to actively construct, challenge, and expand their own understandings through making connections to prior experiences, thereby opening the door to new learning. Intentional play-based learning enables children to investigate, ask questions, solve problems, and engage in critical thinking. Play is responsive to each child's unique learning style and capitalizes on his or her innate curiosity and creativity. ACE daycare also uses a High Scope approach in its Early Learning and Child Care Centres. High Scope emphasizes active learning. Since we know that children learn best by pursuing their personal interests and goals, children make their own choices about materials and activities during the program time.
ACE Daycare aims to foster outreach, engagement, and communication with families about our program and their children's learning experiences. We believe that families are experts on their children. Sharing knowledge is integral to the success of your child. As part of our continuous communication, we distribute monthly Program Plans and weekly idea plans which can be adjusted according to the needs/interests and abilities of children. Parents are always kept up to date about their child's activities and interests through photographs and videos sent throughout the day. Parents also have access to view their child's classroom through the security camera as we believe transparency and honesty is the most effective way to build trust.
In our inclusive learning environments, we welcome children of all abilities. Respect for diversity, equity and inclusion is vital for optimal development and learning. We regard all children/people as equals and do not accept any kind of discriminatory language or behaviours.
We look forward to welcoming you into our ACE family.
Sofia Rom is the director of Advanced Care and Education Daycare and has been running successful childcare centres for over 20 years. She opened her first home daycare in 1997 and fell in love with the profession. Sofia noticed there was a lack of Jewish oriented daycares in the community and opened her first bi-lingual daycare in 2002. She says:
Now, after 20 years of experience, she received the Top Choice Award for Daycares in Vaughan for 7 years in a row.