Our Toddler Program is designed to introduce children into a social setting while slowlyimplementing routines and schedules. We understand that the transition for both children andfamilies may be new and stressful, and our goal is to ensure a smooth and comfortabletransition for all parties. In order to ensure a smooth and comfortable transition, we believe thattransparency and communication between families and educators is necessary in order to buildtrust and guarantee success. Our priority is to promote healthy development of the child byproviding them with all the necessary resources and tools, and begin building a strong andnurturing relationship so they feel comfortable and loved in a new environment.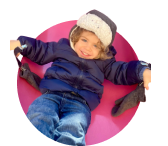 Our Preschool Program is designed to begin building confident and social learners. At thisstage of development, children begin to develop more complex social skills, behaviormanagement skills and formation of identity which is learned through social interactions. Weencourage children to explore new ideas and concepts, ask questions and problem solve.Children at this age are very excited and eager to learn, which is why our curriculum is based onchildren's interests in order to engage and nurture their excitement for learning. Providingsupport for children's developmental domains is extremely critical during this stage as theyexperience rapid physical and cognitive growth, therefore it is extremely important that weprovide all the necessary tools and resources to promote optimal development.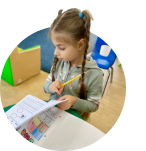 Our Kindergarten program is designed to begin preparing children for grade school.Transitioning between Kindergarten and grade school is a big change for both children andfamilies, and our goal is for children to know what is expected of them so the transition issmooth and not overwhelming. While making sure that children are academically prepared forgrade school, it is important we develop equally important skills such as communication,cooperation and respect. Our curriculum includes small and large group activities to furtherdevelop communication and collaboration skills amongst different group settings. Childrenduring this stage of development are developing a stronger sense of self, and it is important tonurture each unique personality and promote individuality and confidence.
Circle Time is a time for coming together and sharing ideas; a time to develop a sense of the whole group. During circle time, children spend time reading, singing and learning about the calendar as well as participating in various activities related to themes and/or topics of interest. Children learn to listen to others and how to feel comfortable about speaking in a group.
Jolly-Phonics — A specialized reading teacher will visit the preschool and kindergarten classes each week to introduce the Jolly-Phonics program. As the children develop, the program is enhanced based on the skills they acquire. Depending on the age of the child, the 10 month program will work towards developing fine motor skills, letter recognition, and beginning reading readiness skills. This prepares your child for school.
Music is a time for children to enjoy listening to a variety of different musical rhythms, and dancing or moving to the sound of music. A special music teacher comes in once a week to spend time teaching the children new songs as well as exploring a variety of musical instruments. This special activity promotes a child's enhancement in music, encourages children to be exposed to and appreciate different types of music as well as make them aware of how music is played and created.
Floor Toys and Puzzles help develop decision making skills, social skills, language skills and independence. Puzzles enhance children's logic skills in making proper decisions and accomplish goals. Rotation of toys is manditory so that children get a large variety and always have interesting toys that capture their attention.
Drama Centre is a play area where children are given an opportunity to use their imagination. This drama centre is converted into many different themes, such as a doctor's office, grocery store, hair dressing salon, school bus, etc. This centre helps children develop their creative side, language, communication and social skills, decision making and negotiation skills among a group.
Arts & Crafts: We believe in both child-directed and teacher-directed activities. Children have the opportunity to use the arts and crafts shelf at all times during free play time. Children are encouraged to create their own art with a large variety of arts and crafts materials. A number of activities are supervised by a teacher because some activities are designed for a specific theme or topic. This gives teachers an opportunity to educate children about different themes programmed for that day or week.
Movement and Yoga program is provided once a week to all children in the centre. The children will explore the world of creative movement through Yoga and various different types of dance and pros such as ribbon and balls. Throught this program the children will further enhance their gross motor skills, rhythm, and imagination.
Books/Library/Quiet Area are available to all children at all times. An opportunity for children to enjoy a large variety of multicultural books and a quiet area to relax in a soft area surrounded by pillows and puppets. There is also an opportunity to listen to quiet music. Rotation of the books allows children to get a large variety of themes, topics and interest.
Block/Building Centre helps develop gross and fine motor skills and allows children to experiment with space, size and shape concepts. This is an opportunity to create, design and form either individually or in a group setting.
Science and Sensory is an excellent area for children of all ages to experiment with their five senses and enjoy different activities that include water, sand and all kinds of other materials that have an abundance of texture, smell and appearance. Children get to experiment hands-on and enjoy playing individually or in a small group.